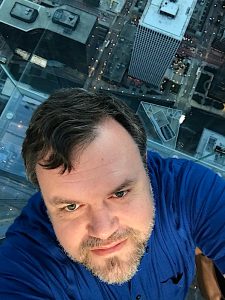 Michael Mahlum
Principal Designer, Director of Design & Production
Michael Mahlum, a native of Denver, Colorado, has designed lighting for dance, theatre and architecture all across the globe.
Currently Michael is Principal Designer, as well as Director of Design & Production at Visual Terrain's Chicago, Illinois, office.
Michael's recent projects include historic re-creation of the Capitol Theater in Fort Edmonton Park, Edmonton Alberta, Canada; the illumination of the top of Barclays Capital in New York, New York; Hugo Boss Retail; the House of Blues in Hollywood, California and Women & Spirit: Catholic Sisters in America, a national traveling exhibit.
Past projects include Hard Rock Cafe Tampa; Choctaw Casino and Resort Durant; Beyond All Boundaries; Americas Mart; Capitol Theatre in Fort Edmonton; Americana At Brand; Dubai Festival City; a 3-D dark ride for Ferrari World Abu Dhabi, a Theme Park on Yas Island in Abu Dhabi, UAE; Looking Corporate Office; Lund Cadillac; Spartanburg Cultural Center and Hubbell Lighting Headquarters.
Michael's work has been recognized recently with two 2011 Illuminating Engineering Society of North America Awards of Merit for Hard Rock Cafe Tampa and Choctaw Casino and Resort, two 2011 Lumen West Awards Award of Excellence, also for Hard Rock Cafe Tampa and Choctaw Casino and Resort, and a 2009 Themed Entertainment Association Thea Award for Beyond All Boundaries, a 4D cinematic experience at the National World War II Museum in New Orleans.
Prior to joining Visual Terrain, Michael's background in lighting design includes Death of a Salesman, A Night of Innocent Games, Dustbowl Gothic, Beauty and the Beast, Aida, and L'italiana in Algeri. He has worked for the Opera Theatre of Pittsburgh, C&C Lighting and Designlab Chicago.
Michael holds a Master of Fine Arts in Lighting Design from Carnegie Mellon University and a Bachelors of Fine Arts in Technical Theatre from the University of Wyoming.