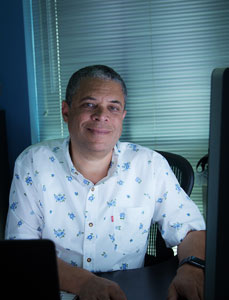 David Green
President/COO
David Green joined Visual Terrain in 2011, bringing over 25 years of experience in managing and delivering large and small development projects, including web site producing, creative and technical writing, theme parks, film, television and animation support, software development, information architecture, project management, public relations and photography.
In 2001, David founded Monteverdi Creative Inc., a media services consultancy specializing in bridging technical and creative endeavors for large-scale multimedia and themed entertainment projects. The company quickly established a clientele that includes the Walt Disney Internet Group, the TEA (formerly Themed Entertainment Association), The Hettema Group, Thinkwell Design, Technifex, Dedica Group, SHO Concepts, and Visual Terrain, as well as DIRECTV, Technicolor, SMART Design, Black Light Design, and Moto Design Group.
Prior to forming Monteverdi Creative, Inc., David's past experience includes 14 years with the Walt Disney Company, working on projects such as Walt Disney Internet Group broadband media projects, Disney's EPCOT Center, Tokyo Disneyland, Disneyland California Fantasyland Rehab, Walt Disney Feature Animation Management Enhancement (FAME) database. Outside the Disney company, David also worked on MicroCADAM software (for a division of IBM), Linn Electronics musical instruments and equipment, and feature news reporting for the Los Angeles Reader.
David is an inventor or co-inventor for nine U.S. patents for user interface design for TV set-top boxes.
David has won awards for creative and technical writing, and has published everything from poetry to 800-page user manuals. "Building a Better Mouse" was co-written with Steve Alcorn, and was published by Theme Perks Press in 2007. "Confessions of an Estrogen Evangelist" a book co-written with Joyce A. Kakkis, M.D., was published by Kensington Publishing in 2001.
An award-winning photographer, David's work is included in "Allensworth: A Place. A People. A Story." an exhibit and accompanying catalog in the permanent collection of the California African American Museum. He is a former, three-term president of the Santa Clarita Valley Photographers Association, and taught photography, Photoshop, and creativity workshops at the Santa Clarita Valley Center for Photography for several years.
David is married to Visual Terrain CEO Lisa Passamonte Green.