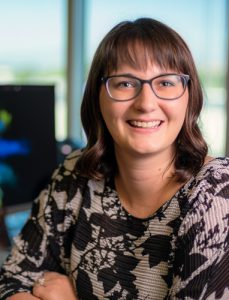 Christina J. Martin
Lighting Designer
Christina currently functions as a lighting designer and project manager in the Los Angeles office. In her short time at Visual Terrain, she's worked on theme parks, retail stores, concert venues, offices, brand icons, hospitality projects and more!
Her current projects consist of concert venues, retail stores, theme parks, and hospitality projects.
Before working at Visual Terrain, Christina worked as a freelance lighting designer, assistant, and programmer, which took her all over the United States and overseas. Her portfolio consists of cruise ships, art installations and gallery lighting, theatre, dance, opera, and themed entertainment.
Christina has been recognized, most notably, as a recipient of the ETC LDI Sponsorship in 2018. She was recognized for her work as a theatrical lighting designer. Some of her favorite theatrical credits include Miracle on 34th Street (SDMT), Billy Elliot (SDMT), Bliss (Or Emily Post is Dead!) (MOXIE Theatre), the world premiere of The Loneliest Girl in the World (Diversionary Theatre), and To Kill a Mockingbird (ECT).
She prides herself in volunteering and being involved with the lighting and themed entertainment communities, as well as student outreach. Currently she serves as part of the TEA NextGen Committee and the IES Emerging Professionals Committee. In the past, she served as USITT Awards Co-coordinator from 2018-2019 and before that as USITT Lighting Commission's student representative from 2015-2018. At Visual Terrain, she works to support the VT Summer Camp and Internship programs.
Christina received a Bachelors of Fine Arts in Technical Theatre (Lighting Design) and Musical Theater from Rockford University and a Masters of Fine Arts in Design and Technology (Lighting Design) from San Diego State University.