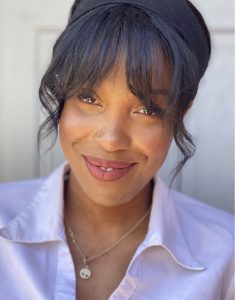 Brittany Patterson
Project Manager
Brittany is Visual Terrain's Project Manager. She works with the team to coordinate all production and design efforts for all projects.
Prior to joining Visual Terrain, Brittany was Project Manager for Upbeat Imagination Workshop in Orlando, Florida, where she planned and initiated multiple, high-value projects from inception to successful delivery, including estimating costs, organizing project schedules, overseeing scope, and monitoring performance across cross-functional teams.  She also worked as a Coordinator for Themed Experience TV (TETV). Previously, Brittany was a Mathematics Teacher for the Bakersfield City School District.
She has a Bachelor's degree in Mechanical Engineering from UC Merced, where she is a member of the Society of Women Engineers and National Society of Black Engineers. Brittany is also a TEA NextGen and IAAPA Student. She is currently pursuing a Master's of Science in Project Management. With a technical background in mechanical engineering along with management skills, Brittany will be unstoppable in this industry. She wants to inspire everyone to pursue their dreams no matter what life throws at you.